このサイトはアフィリエイト広告によって運営されています
This web site contains affiliate promotions.
We consist of several members who have working experiences in Japanese internet service companies 7 to more than 10 years.
With the experiences, we made this website to offer helpful information for foreign people in Japan to make an efficient and smart contract for the internet in Japan.
Information for Smarter Contract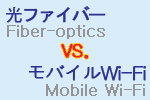 Fiber-Optics Vs. WiMAX, the Best Internet in Japan for You? By dealing with pros and cons of fiber-optics and WiMAX in Japan, this article explains the differences of them. After you read this article you will know which one is best for you.
2021-03-14